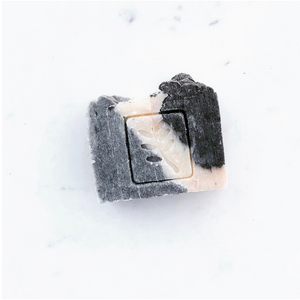 Bamboo Charcoal 3oz Soap Bar
Sweet, Earthy, Cheery
SEASONAL SOAP BAR. Available in May, until supply lasts. This luxuriously creamy, relaxing bar will calm and soothe your mind, body and soul.
Suggested Uses: Facial, Hand & Body Bar. Use this bar to relieve stress and brighten your day!
Ingredients: Saponified Oils of Olive, Coconut, Apricot, Almond, Castor & Vitamin E
Botanicals: Dandelion, Safflower Powder
Colorants: Safflower Powder
Essential Oils: Fennel Seed, Lemon, Peppermint & Patchouli
All orders shipped via USPS Priority Mail.
Our pure, natural soaps are ideal for people with sensitive skin and those with skin conditions and problems, however, with any skin care product, you should test our soaps on a small patch of skin (such as the inner, upper arm) for possible allergies or other negative reactions before using over your entire body, and especially your face.
PRECAUTIONS
Fennel Oil Specific: Avoid in epilepsy, estrogen dependent cancers, and while pregnant. May cause skin irritation.
The information and suggestions provided are not intended as a substitute for consulting with your physician or other health care provider. Olive Branch Natural Soap Company and its members are not responsible for any adverse effects or consequences resulting from the use of the products or suggestions listed above. All matters regarding your physical health should be researched by the consumer and supervised by a health care professional.
---
We Also Recommend