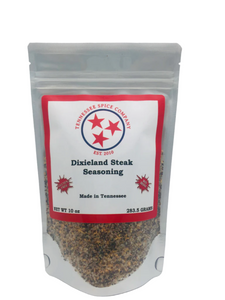 Dixieland Steak Seasoning
Lightly cover one side of meat or seafood. For spicier meat, apply more seasoning. Apply two 1/4 inch pats of butter or drizzle melted butter over meat. Heat skillet to temp similar to frying an egg. Add meat. Repeat seasoning/butter to exposed meat.
Flip to cook other side. Remove when meat is done. Apply more seasoning to cover bald areas.
Sprinkle on 10 - 15 mins before cooking. Size: 10 oz.
Made in Cookeville Tennessee
---
We Also Recommend