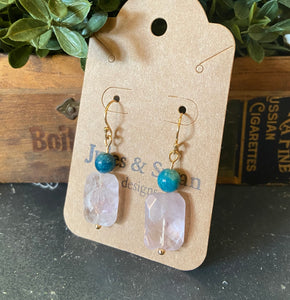 Handcrafted Dianna Earrings w/ Amethyst & Blue Apatite
Gold-filled metal with Amethyst and blue Apatite; Just like you, each piece is beautifully and uniquely created. Each one similar but none the same!
Measures 1.5"L; Widest stone measures .5"
Note from Artist: "Born and raised in Wisconsin, I now live in Nashville, TN with my amazing, Godly husband, our spunky golden doodle, and our very old farm cat.
My love for jewelry began around ten years old when my aunt took me to a bead and jewelry supply store. All the different beads, wires, tools, stones... the possibilities for creativity always seemed endless and I was hooked.
Growing up, I always admired the different stones and designs on my Grandpa's bolo ties. But it wasn't until I moved to the south that I began making my own and my love for working with leather increased. It was also then that I began making pieces that I not only love wearing but truly love creating. "
---
We Also Recommend