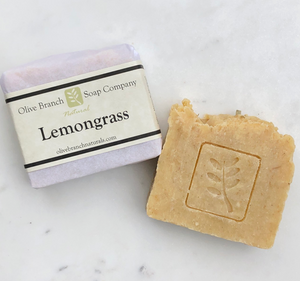 Lemongrass 3oz Soap Bar
TOP SELLER!

Purifying, Stimulating & Cleansing
Ingredients: Saponified Oils of Olive, Coconut,
Avocado, Almond, & Vitamin E
Botanicals: Ground Lemongrass
Colorants: Ground Annatto Seed
Essential Oils: Lemongrass & Benzoin

Olive Branch Natural Soap Company, LLC ™, is a small family-owned and operated business, in the "hills and hollers" of middle Tennessee, offering ALL NATURAL & ORGANIC, ARTISAN, SKIN, BODY, HAIR & HOME CARE PRODUCTS.
ALL OF OUR PRODUCTS ARE HANDCRAFTED; in fact, each bar is hand cut, and all of our labels are attached, one label at a time! HIGH QUALITY FRUIT, VEGETABLE, AND NUT OILS, such as Olive, Coconut, Apricot, Sweet Almond, Avocado, Safflower, Grape Seed, and the like, serve as our base, for all of our products containing oil. We use ESSENTIAL OILS (only) for our scents, and ALL OF OUR COLORANTS ARE FROM NATURE (plants, clays, spices, etc).
WE DO NOT USE UNNATURAL PRESERVATIVES, CHEMICALS, DYES, PETROLEUM PRODUCTS, SYNTHETIC FRAGRANCES, PARABENS, OR SODIUM LAURYL SULFATE. OUR PRODUCTS ARE CRUELTY-FREE AND NEVER TESTED ON ANIMALS.
---
We Also Recommend