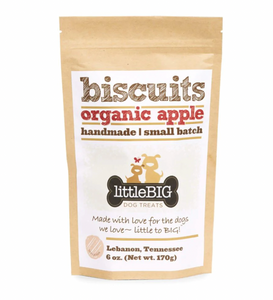 Organic Apple Dog Biscuit Bones
Organic Apple Biscuit Bones
Five fresh, real food ingredients make up these tasty treats:  Oats,  Organic Apples, Molasses, Organic Cinnamon, Real Eggs.  No flavor enhancers, no preservatives, no artificial anything.   Each batch of our dog treats are handmade in small batches with lots of care and love ~ for the dogs we love!
Each package contains 6 oz. (170 g) of treats.
Ingredients: Oats, Organic Apples, Eggs, Molasses, Organic Cinnamon.
"Providing a meaningful career for a special needs young adult"
A love for our own dogs, work skill training in the process of producing dog biscuits, and a desire to do some kind of work partnering alongside her mom, all led to this place. Little BIG Dog Treats, LLC was formed to provide a meaningful career for our young adult daughter, who was born with Down syndrome. From picking out the name to approving the logo to making and packaging the dog treats, she has been actively involved in every step of this business. It's been so fulfilling and fun to see her come alive with enthusiasm and passion since beginning this dog treat business journey!
She takes so much pride in the work that she does.
From gathering the ingredients and baking supplies to methodically measuring each ingredient, she has fun, but she takes her job seriously in making the best product possible. She knows how to cut out the treats leaving the least amount of dough scrap per batch. The baking sheets are meticulously lined up with treats placed in perfect rows. She quietly goes about her work preparing the final tray of dog treats before the dog bone biscuits are ready for baking.
While the treats bake, she helps label packaging. When the treats are done baking and have cooled, she weighs and packages them, so they're ready to sell.
You can feel good giving your dog our treats knowing our dog treats are lovingly handmade with care using the best natural, healthy, ingredients, almost as if you were making homemade dog treats yourself, without the time consuming effort.
Made with love, simply and honestly, so you will get the highest quality dog treats for your own dogs, big and small. We have fun here!
---
We Also Recommend